Ausjet Refill or CISS Ink 73N,133,138,140,200,220 for Epson pigment ink printers
Free standard shipping in Australia for Ink, Toner & hardware items.
Express options at Checkout. View our
Delivery Information
.
---
---
Ausjet

non-OEM

Ink for Cartridge Refill

or

CISS

(Ink Supply System)

for use in


Epson cartridge series 73N, 103, 133, 138, 140, 200, 220

for

Epson 4-colour printers 
*

*

200ml

Ink Refill =
 

up to approx

12 Colour

&

6 Black

cartridges

!

*

*
100% Money Back Guarantee
::
Choose any combination

Please contact us if you have any question not covered in the description below, and we will get back to you promptly with an answer.
Visit our Store for more Epson compatible Ausjet Ink and Cartridges, and inkjet paper.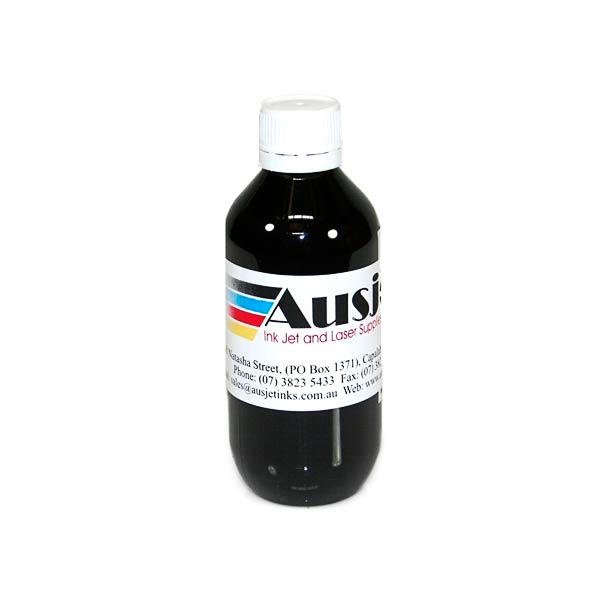 What's in the package
Ink Refill Bottles, for cartridge or CISS, in sizes -

Pack sizes -

2 of Any Ink


Set of 4

Set of 5  (includes 2x Black)

Each Ink Bottle comes with -




10ml syringe and 30mm blunt needle.

Contact us for other syringe sizes or sharp needles, or if none required.

Choose ANY combination.  Just send us a message with the colours you prefer, at the time you place your order.
Notes:

Please allow up to 2 days before shipping. Read below for more delivery information.

No GST. Standard Invoice will be emailed on request

We can pack more on request. If your item shows as "Out of Stock" please send a message to ASK IF WE CAN PACK IT.
Larger quantity and sizes can be provided. Please contact us for price and availability of all sizes including 200ml, 500ml, 1 Litre and 5 Litre.

Equivalent OEM (Original) Cartridges
73N

103 / T103
133 / T133
138 / T138

140 / T140
200 / 200XL
220 / 220XL

Compatible Epson Inkjet Printers

73N series cartridge

Stylus models C110, C79, C90

Stylus models CX3900, CX4900, CX5500, CX5900, CX6900F, CX7300, CX8300, CX9300F

Stylus models T10, T20, T21, T30, T40W, T1100, NX220

Stylus models TX100, TX110,TX200, TX210, TX300F, TX400, TX410, TX510FN, TX550FN, TX550W, TX600FW, TX610FW




103 series cartridge

Stylus Office T40W, Stylus Office TX600FW

Stylus TX550FW, Stylus TX600FW, Stylus TX610W




133 series cartridge

Stylus printers N11, NX125, NX130, NX230, NX420, NX430, TX120

Workforce printers 320, 325, 435




138 series cartridge

Stylus printers NX230, NX420, NX430, NX635

Workforce printers 320, 325, 435, 525, 545, 60, 625, 630, 633, 645, 7010, 7510, 7520, 840, 845, WF3520, WF3530, WF3540
140 series cartridge

Stylus NX635

Workforce 60,Workforce 525, Workforce 545 Workforce 625, Workforce 630, Workforce 633,Workforce 645,Workforce 840,Workforce 845,

Workforce 3520,Workforce 3530, Workforce 3540, Workforce 7010, Workforce 7510,Workforce 7520
200 series cartridge

Expression Home models - XP100, XP200, XP300, XP310, XP314, XP400 and XP410

Workforce models - 2510, 2520, 2530, 2540
220 series cartridge


Expression Home XP220, XP320, XP324, XP420

Workforce 2630, 2650, 2660
Note:

Printer Firmware and Generic Cartridges:
We recommend you SWITCH OFF automatic updates to the printer firmware and driver (refer printer manual), and also do not run manual updates, if you are using generic cartridges.

Avoid mixing original and generic cartridges - use either one set or the other.


Always change cartridges with the printer turned ON, and follow prompts to ensure cartridge is detected.
Key Benefits
Premium Sensient or Kodak Inkjet Ink for reliable performance and sharp printing.
High resolution printing and accurate colour matched to OEM standards for Epson Durabrite ink.
Value for Money -

200ml

of Refill Ink, fills up to approximately 12 Colour and 6 Black cartridges.


6 Month Warranty and Satisfaction Guarantee

: - We will refund, replace or provide credit for any defective item sold by us. See our Returns Policy for details.


Features
Premium Sensient or Kodak Pigment Inkjet Ink, made in USA.


Tested for reliability against equivalent OEM cartridges

Only premium quality materials used in manufacture - NOT just the cheapest available.

Both ink and paper affect your printing quality. Adjust colour controls in printing software or use a colour profile for best results.     


Note: Our current stock may differ in style and labeling from photos shown here.

Use of this product will not void your printer warranty in Australia. However, Epson recommends original supplies for optimal performance from your Epson printer.


---
We Also Recommend