Ausjet 49XL non-OEM Ink cartridge for Epson Expression Home XP-2205, XP-4205
Free standard shipping in Australia for Ink, Toner & hardware items.
Express options at Checkout. View our
Delivery Information
.
---
---
Ausjet
[or equivalent brand]
non-OEM Ink Cartridge

for

Epson 49XL,
for use in

Expression Home XP-2205, and XP-4205
 ** Buy

2

or more Singles or Sets

& save up to 25% extra! **




[

NOT FOR USE in Epson Stylus R or RX Photo printers

]
Sets & Custom Packs ::

100% Money Back Guarantee
Please contact us if you have a question about this item, and we will get back to you promptly with an answer.
Visit our Store for more compatible Ausjet Cartridges, and premium Inkjet papers.


Please refer below for delivery information.



What's in the package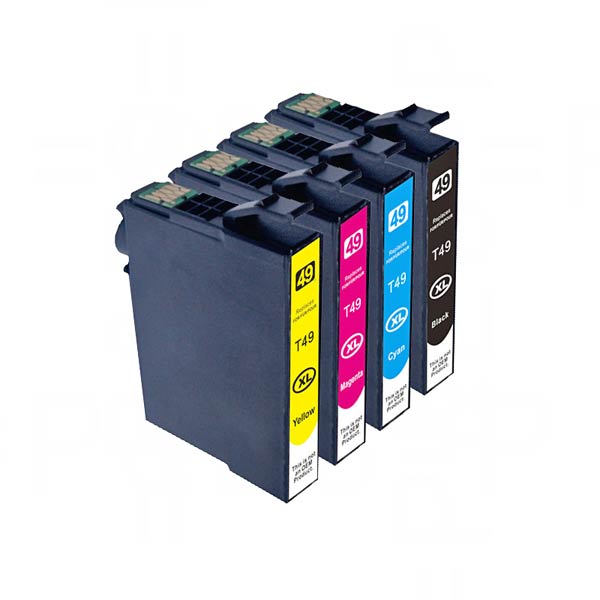 Sets & Packs:

We send these Sets and Packs unless you request a custom order:

2-Pack -  2 x BLACK (49XLB)
3-Colours Pack  - ONE of EACH Colour (C,M,Y)

Set of 4 -  ONE of EACH Ink (Bk,C,M,Y)


5-Pack -  2 x BLACK plus ONE of EACH Colour (C,M,Y)

1 x Set of 4 contains:

1 x 49XLB Black  15ml
1 x 49XLC Cyan  15ml
1 x 49XLM Magenta  15ml
1 x 49XLY Yellow  15ml
Custom Orders:

Select your order from the menu options. Then just send us a message with the inks you prefer, at the time you place your order.

3-Colour Pack - ANY 3 Colour Inks (C,M or Y)

Set of 4 - 1 x BLACK plus ANY 3 Colours
5-Pack - 2 x BLACK (max.) plus ANY Colours

Order 2 or more Sets of 4 inks, and save more.
Brands we Guarantee:


For this listing we supply

"Ausjet"

branded (non-OEM) cartridges unless unavailable. Alternative brands we supply such as

"Q-Image"

will be of equivalent yield and quality.

If not completely satisfied when you receive your order, any cartridge may be returned or replaced within 60 days, or within warranty period if faulty. Read below for further brand and Returns information.
Equivalent OEM (Original) Cartridges
49XL Black, #

C13T10F192

49XL Cyan,

#

C13T10F292

49XL Magenta,

#

C13T10F392

49XL Yellow,

#

C13T10F492
Compatible Epson Printers
Expression Home (printers sold in Australia)

Note:

Printer Firmware and Cartridge Compatibility
Our cartridges use the latest available electronic chip, compatible with the version of printer firmware/driver current at the time of manufacture.

We recommend you SWITCH OFF automatic updates to the printer firmware and driver (refer printer manual), and also do not run manual updates, while you are using generic cartridges.

Avoid mixing original and generic cartridges - use either one set or the other.


Always change cartridges with the printer turned ON, and follow prompts to ensure cartridge is detected.
Note: Please check your manual to ensure you purchase the correct cartridges for your printer.
Key Benefits
Value for Money - High Yield XL cartridges print up to 2.5 times more pages than Standard 49 cartridges.

Ausjet ProColour premium cartridge for sharp, bright and long lasting prints
Top quality casing, electronic chip and inks.
Reliability -

significantly lower failure rates than "No-Name" cartridges.

Ink is resistant to smudge, highlighter, UV and water

100% Satisfaction Guarantee: -

We will refund, replace or provide credit for any defective cartridge sold by us. This includes non-compatibility caused by auto-updating. See our Returns Policy for details.
Features
Tested for reliability against equivalent OEM cartridges.

No skimping on ink. Many ProColour cartridges contain more ink than others, giving better value and more prints.

Ausjet ProColour cartridges use ink from quality sources, and as close to OEM specifications as possible.
Delivery Information
A signature is usually required on delivery.

All our shipping includes tracking and is with Australia Post or other Courier. Free shipping insurance is complimentary with most items.


Delivery to a P.O. Box is always with Australia Post.

To ensure your parcel is delivered securely and promptly even when there is no-one at home, you may request an 'Authority to Leave' without a signature (ATL), when placing your order.


You can also specify the secure place to leave your parcel.

Please note, when you request an 'ATL' we are not responsible for security of your parcel while it is unattended.

If your parcel is unable to be delivered you may be notified by email, or 'missed-delivery' card at your address, with instructions for re-delivery or collection.

International Buyers: For our best shipping rates please contact us, or request an Invoice before ordering. In many cases we are able to ship for less than the Postal rates displayed.
About the Brands

Beware cheap 'no-brand' cartridges sold on eBay !! 

They are unlikely to be anywhere near the quality of OEM cartridges
or our AUSJET and Q-IMAGE brands of compatibles.

Ausjet and Q-Image -

We believe Ausjet and Q-Image cartridges are two of the most reliable series of high quality inkjet and toner (non-OEM) cartridges available in Australia today. Ausjet have been providing printing supplies since 1986, and Q-Image since 2003.

Both now produce a wide variety of reliable and high quality cartridges for Inkjet and Laser printers, including for:  Brother, Canon, Epson, Hewlett-Packard, Lexmark, Fuji-Xerox and more.
Ausjet and Q-Image cartridges are built with premium quality components (cartridge casing, electronic chip, ink, toner etc), and tested against OEM equivalent products to ensure reliability and superb quality printing.  Cartridge components are sourced from quality manufacturers, mostly in USA, Japan or South Korea, while the final cartridge products are assembled in either China, South Korea or Philippines.
Safety and Environment
Caution: Remove cartridge carefully from package, over a safe work-area. Follow instructions on packet to avoid damage to cartridge and/or equipment. In the unlikely event that a cartridge has been damaged since leaving the factory, some ink may have leaked.
Dispose of empty cartridges thoughtfully and cut waste going to landfill. We recommend recycling using your local council drop-off point, recycle centre, TechCollect depot or Cartridges 4 Planet Ark program.
Our Store Price Policy
We aim to keep prices as low as possible for our quality products.
Generally we cannot negotiate for "best-offer" prices or give extra discount.
For bulk orders within Australia (10 or more units) please contact us for discount up to 20% off the unit price.
---
We Also Recommend