2x Scientific Calculator 82ES with Big display & cover. Student school office
Free standard shipping in Australia for Ink, Toner & hardware items.
Express options at Checkout. View our
Delivery Information
.
---
---
2x Scientific Calculator FB-82ES - for science, engineering, maths, Uni, TAFE
*
*
Original Retail

$45

- 
OUR PRICE

ONLY

$22.40

($11.20 each)
with FREE Std Post - SAVE 50% !

*

*
100% Money Back Guarantee

 

 

 
Please contact us if you have any question not covered in the description below, and we will get back to you promptly with an answer.
Visit our Store for premium compatible Inkjet Cartridges, Laser Toners and paper.
What's in the package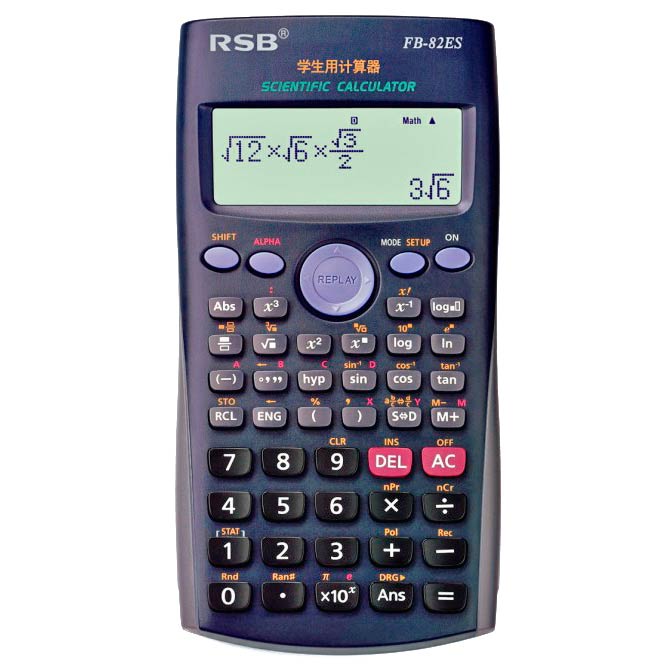 2

x

RSB Scientific Calculator FB-82ES.
Slide-on hard case (x2)

Please read below for delivery information.

Key Benefits
249 functions

Big LCD display

- Natural textbook display


10+2 digits

9 memories


Table function

Multi replay function

includes slide-on hard plastic case


Features

In addition to the benefits of a basic calculator (+, -, x, /, %, and memory keys), scientific calculators include the following:


π key


reciprocal key (1/x)

parentheses keys ( )

fraction keys

power key (ax, xy or similar)

square (x²) and square root (√) keys

cube and/or cube root keys


EXP key and a sign change (+/-) key

logarithm and exponential keys (base 10 and base e)

trigonometrical function (sin, cos, tan) keys with an Inverse key

capacity to work in both degree and radian mode

permutation and/or combination keys ( nPr , nCr ) 

statistical operations including standard deviation, regression analysis


metric and currency conversion






Specifications



Power source - 2 x button cell battery (LR44)

Size: 161×80×13.7 mm


Weight: Approx 150g (includes battery)

Manufactured in China to ISO 9001:2000 international standards certification